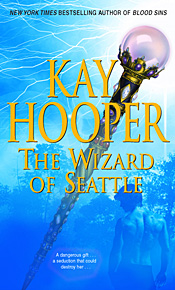 Kay Hooper Film Adaptation Set To Be A Harry Potter/Twilight Franchise For Grownups?
As the Americanized "Girl With the Dragon Tattoo" prepares to launch into theaters, many Hollywood insiders are hailing the return of the adult genre movie.
"I think recent R-rated comedies like 'The Hangover' and 'Friends With Benefits' have given mainstream movies their edge back," says Writer/Producer/Director Richard O'Sullivan. "There seems to be a willingness in Hollywood now to push the envelope and not play it quite so safe. It's a little like a daring return to the adventurous 70's."
O'Sullivan is banking on that trend continuing with the announcement that he's optioned the popular Random House/Bantam Books fantasy novel, The Wizard of Seattle, penned by New York Times-best selling author Kay Hooper (Blood Ties), with the hopes that it can become a "more adult version" of such mega-franchises as Harry Potter and Twilight.
"With series like 'Harry,' the idea was quite literally to pull readers in at a young age, then let the characters and story mature with the audience," says O'Sullivan. "Well now, that first crop of kids are young adults. They're in adult relationships, living in the adult world. What I like about Kay's book is that she uses things like wizardry and magic to explore male/female relationships in a very mature and complex manner. It's fun, it's sexy, and ultimately very thought provoking."
The Wizard of Seattle, one of the earlier books from Hooper (who rose to superstardom in the literary world with her Bishop crime series), tells the story of two modern day wizards who must travel across time to fight for their right to love one another.
"It's very timely," says O'Sullivan. "I think it will resonate with a lot of people on a lot of different levels. Forbidden love is as old as humanity itself. Romeo loving Juliet, vampires loving vampire slayers. In a world where people are increasingly intolerant of people living their lives the way they wanna live them, I can think of no better metaphor. Plus, it's got the potential to be a terrifically entertaining popcorn movie."
O'Sullivan, last in the news for his part in the controversial, on-again/off-again Lindsay Lohan comeback vehicle "One Night With You," is currently in pre-production to direct the groundbreaking horror film "Hallows," produced by Dale Alexander Carnegie (whose recent remake of "Clash of the Titans" grossed some $500 million wordwide). He is not only signed to write the screenplay for "The Wizard of Seattle," but will also produce the film along with Linda Parks of Far City Films, in association with Gilberto Vera of Verge Films.