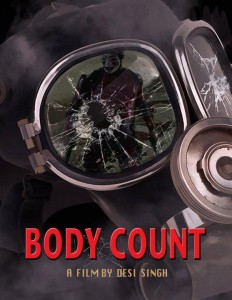 "Friday the 13th" meets "Seven" meets "Batman."
They killed the woman he loved, ran him over and left him for dead. But what they didn't know is that he has hyper advanced cellular regeneration abilities, a bio-morphic, exoskeletalsuit of living muscle, giving him the strength of a hundred men and an insatiable
desire for vengeance. Now they'll have to pay the toll with their lives, when they face…
ROAD KILL as the BODY COUNT rises!
Production notes:
Desi Singh – Writer,director,screenplay.
Gilberto Vera – Executive producer
Ken Joseph – Music score.
Production Companies:
AMRA Pictures Entertainment. LLC
Verge Films
Cinema Music Consulting
Location:
Los Angeles